Imagine a mass produced unified public conduit system that can be installed anywhere at the lowest possible cost, the highest possible quality, with the greatest efficiency, built from the most resilient materials and is pollution free.

It is a collection of vital municipal utilities bundled into what we call the Conduit Cluster providing a first of its kind full integration of solar powered hydrogen production and distribution system supporting a high speed magnetic levitation ( MagLev ) on-demand public transit network built along the right of way of the US Interstate Highway Systems, and any other permissible right of way where such a machine would be of benefit.


The Hydrogen Super Highway, also known as the HyRail, is accessed by Traveler Stations that are built within the right of way of the Interstate Highway within the land locked real-estate of the clover leaf interchanges providing maximum ease of access for people who live anywhere near the Interstate Highway.
The HyRail public transit network will enabled millions of people in the future do utilized on-demand publicly owned transit vehicles that share the same maglev rail with privately owned transit vehicles. Essentially the HyRail represents the addition of new lanes of transportation traffic on existing rights of way.

What problem does the Interstate Traveler Solve?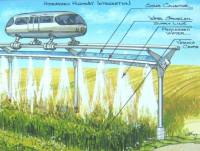 The newscasters tell us every day about the difficult times people are having all over the world. Everywhere there is over crowding, urban sprawl, public utility failures, traffic jams, car accidents, utility poles that are easily damaged by bad weather, backed up sewer systems that contaminate local public waters and the threat of drought and famine. The science of all these problems being significant unto themselves as a business, a municipal responsibility and as a personal plight. The Interstate Traveler creates a more resilient solution to all of these problems in a single relatively inexpensive mass produced rapid transit rail system with an embedded 'self-contain and self-sustained' conduit cluster for common municipal utilities.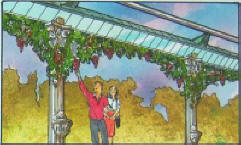 Garden Arbor Light Rail It has become ever more popular for new urban areas to be developed with underground utilities, and as the ever increasing population grows into new areas and redevelops old ones, there will be a need for both a highly efficient light rail system, and a need for massive upgrades in the basic public utility conduits such as electricity, water, and liquid waste.

One of the many great aspects of the Garden Arbor Light Rail system is the ability to sequester carbon while releasing oxygen into the atmosphere.

You can read more about the Garden Arbor Light rail system here. You can also visit their Hydroponic Highway systems approach for carbon sequestration and water purification by clicking here.